Kuta Beach is widely considered to be Bali's most popular tourist destination. White sands, blue waters, coconut trees lining the shoreline. What's not to love? When it came time for us to plan our trip through South East Asia, this was at the top of our list of places to see.
We've been in Kuta for almost a week now and have spent a considerable amount of time getting to know the beachfront. As I write this, I'm sitting on Kuta Beach watching the sun go down; this feels like the perfect time to give you the inside scoop. So this is Kuta Beach according to me.
1. Tourists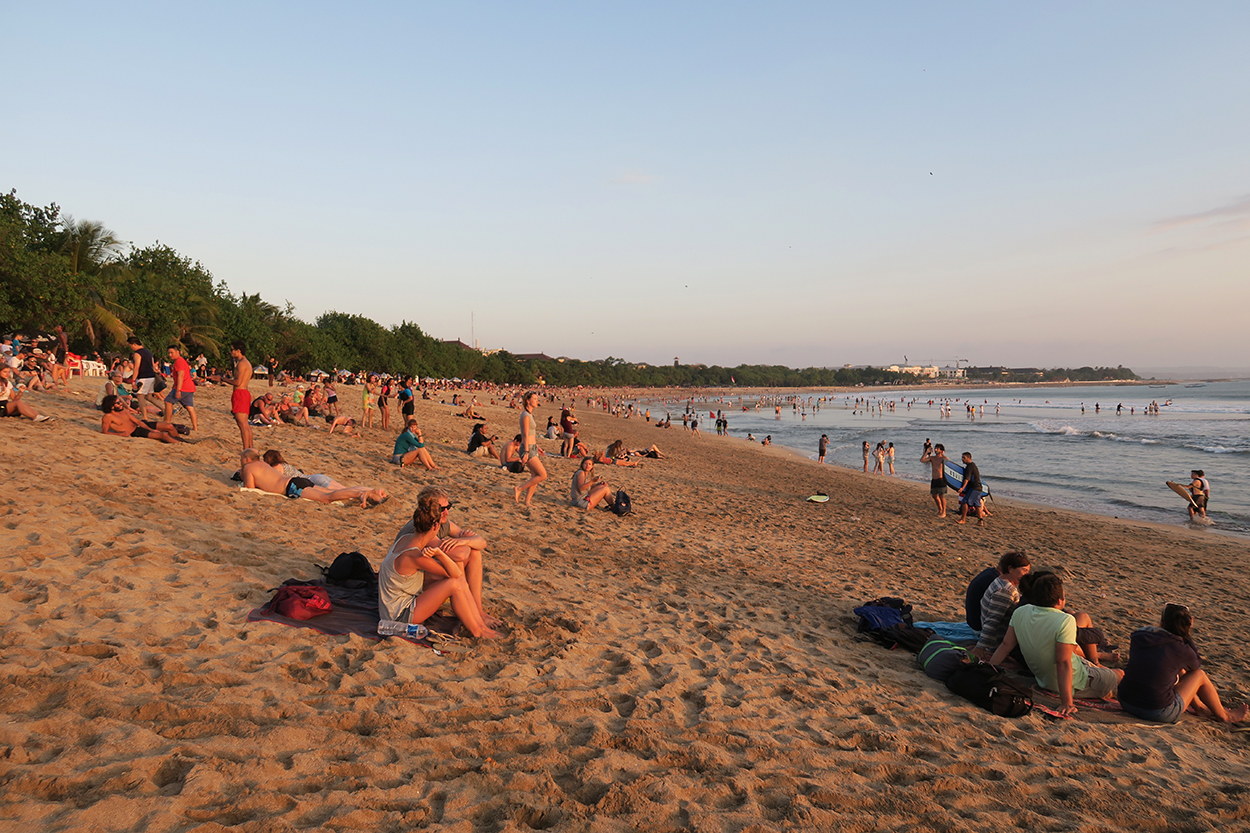 Assuming that you visit in peak season, the first thing that you're likely to notice when you arrive on the sand are the hordes of tourists. They weren't kidding when they said "it's popular"! The beachfront is roughly 5km long, yet it seems that the entire area is at maximum capacity. If you like the hustle and bustle of crowds, then this may add to your experience. If you prefer peace and tranquility, then you may want to keep your visit to Kuta Beach (and the Kuta region in general) short and sweet.
In recent years, this overpopulation has resulted in an unsightly problem: litter. Prior to booking our trip, we read dozens of reviews criticising Kuta for the general cleanliness of its beachfront. Fortunately, it would seem that the powers that be have taken this criticism to heart and have taken measures to rectify the problem. We've found the beach to be clean and well maintained during our stay. High five to Kuta Beach for cleaning up!
Tip: Bali has no shortage of beautiful beaches. If crowds aren't your thing, it may be worth hopping on your scooter and taking a 20-minute drive to the quieter, and more scenic, Jimbaran Beach.
2. Vendors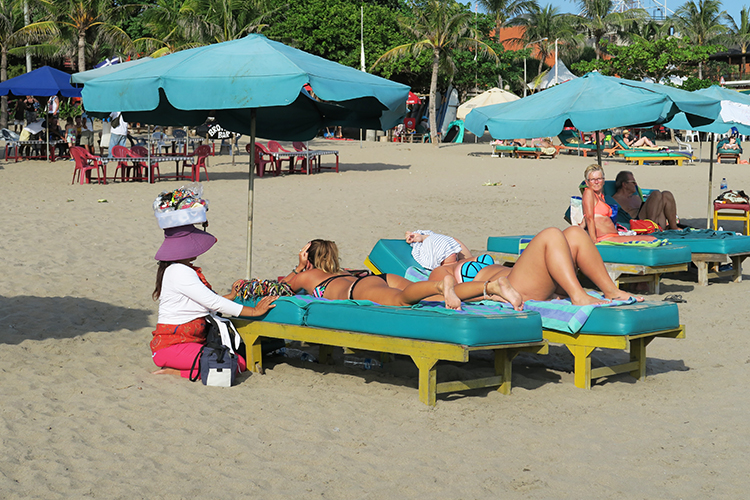 The beach is full of locals who take complete advantage of its "tourist attraction" status. These vendors sell everything from food and drinks to sarongs and sunglasses. You can even get an Indonesian massage or a mani-pedi right there on the sand.
Unfortunately, if you look like a foreigner, it's likely that these vendors will approach you a little too often; this can get pretty exhausting if you're around for more than a couple of days. Some will go as far as following you along the beach trying to convince you to take whatever they're selling. My husband, Ryan, has taken to responding in a foreign language. This approach seems to decrease their resolve to make the sale.
Tip: Learn how to say a couple of words in a foreign language. The phrase "no thank you" should be more than sufficient for your purpose. This tip may seem a bit silly, but trust me; you'll be grateful for this ability once you've entertained a couple of overzealous beach vendors.
3. Restaurants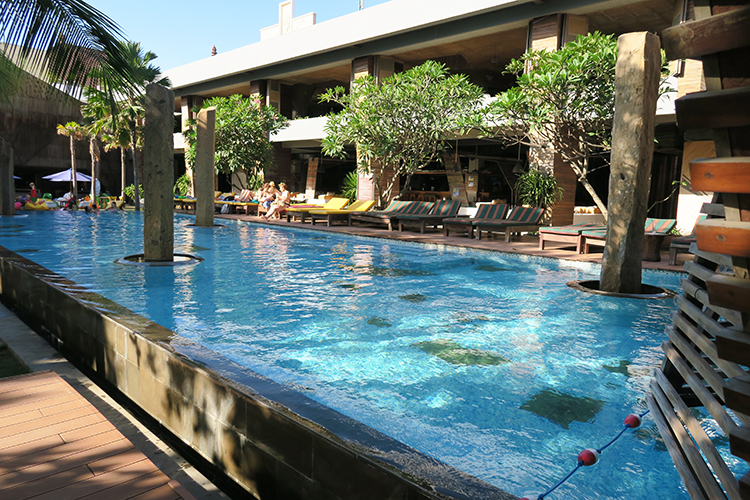 Behind the tree line, you'll find a steady stream of restaurants that cater to almost any budget. If you're looking to eat gourmet food while relaxing next to a beautiful swimming pool, they've got you covered. If you find yourself scrounging around in your bag for your last couple of bucks, they've got you covered, too. Yesterday, Ryan and I both ate a delicious Indonesian meal for less than $2.50 each!
Being a hot spot for tourists, you also have your pick in terms of what you eat. Restaurants often have a mix of western and eastern dishes and their menus are always available outside so that you can get a feel for your options before going in.
Tip: Stick to local food as much as possible. Unfortunately, even high-end restaurants struggle with many western dishes. You haven't been truly disappointed until you've had an egg and bacon breakfast in Bali.
4. Surfing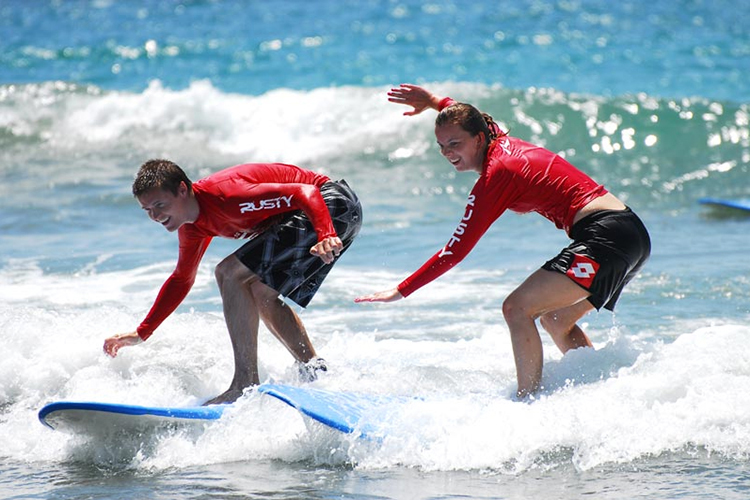 If you are a beginner (tick), and you want to learn how to surf (tick), then Kuta Beach is the place to be. The waves are the perfect size and shape for someone who is just starting out and the break isn't over anything that could injure you when you inevitably wipe out.
Also, there must be close to a hundred locals renting surfboards along the beach. These typically cost the equivalent of $5 per hour, but with a bit of bartering we were able to secure boards for less than $5 per day. Most of these vendors are surfers themselves and can offer you lessons to go with your board. Win!
If you're happy to pay a bit more, you may want to hire a more professional company to facilitate your surfing lessons. These companies come with a few extra perks such as a second skin, water breaks, and professional photos of your session.
Tip: When hiring a surfboard, don't accept the first price that gets offered. With close to 100 competitors, the price is always negotiable. If you can't reach an agreement with a particular vendor, talk to the competition.
5. Turtles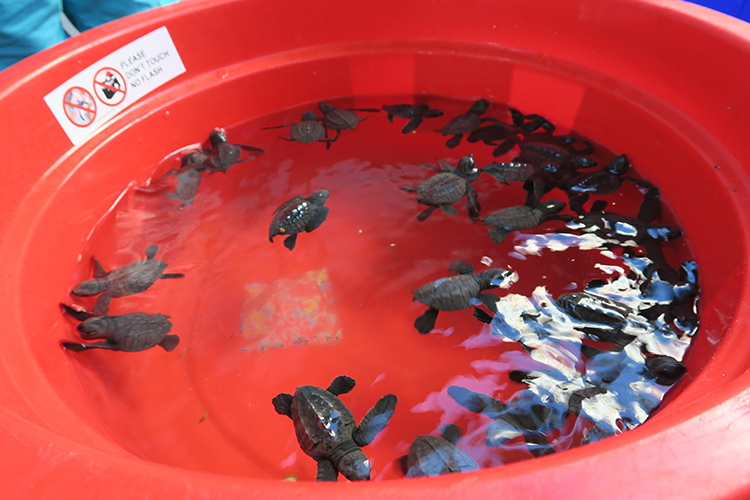 During our first day in Kuta, we came across a giant statue of a sea turtle. A crowd of people surrounded the statue, and they were oohing and aahing excitedly. When we reached the front of the crowd, we saw what all the fuss was about; before our very eyes were 60 adorable BABY TURTLES frolicking in a large bucket of water!
We had stumbled upon a program that is working to increase the number of sea turtles in the area, and they had a group of hatchlings that were ready to be released later that day. The organisation releases hatchlings frequently between April and September at 4:30 pm. You may "adopt" a turtle by making a donation and then taking him/her to the ocean to be released.
Once everyone had collected their baby turtle in a small plastic container, we were instructed to march down to the beach. Once there, everybody stood behind a line in the sand and waited to release them. We counted down from 3 and then released them all at once. It took about 30 minutes for them all to reach the water where they experienced the ocean for the first time. It was a truly magical experience and one that you shouldn't miss if you're in the area.
Tip: Do it! This experience was the highlight of our stay in Kuta.