PULL!
BANG!
Ryan looks on in dismay as the clay pigeon sails into the distance. I choke back a giggle as he reloads his shotgun. The fact that I hit every one of my targets in rapid succession probably isn't doing much for his confidence. Then again, I'm sure that this feels a lot better than yesterday's humiliating archery defeat.
In his defence, it was his first time wielding a bow and arrow and the coach decided to pit him against "Ben the Accurate." I mean, this guy spent half of his life honing his skills! Long story short, Ryan's protests fell on deaf ears and he ended up losing horribly. He insists that six-year-olds shouldn't even be allowed to hold a bow and arrow, but I personally felt a lot safer when it was Ben's turn to take aim 😉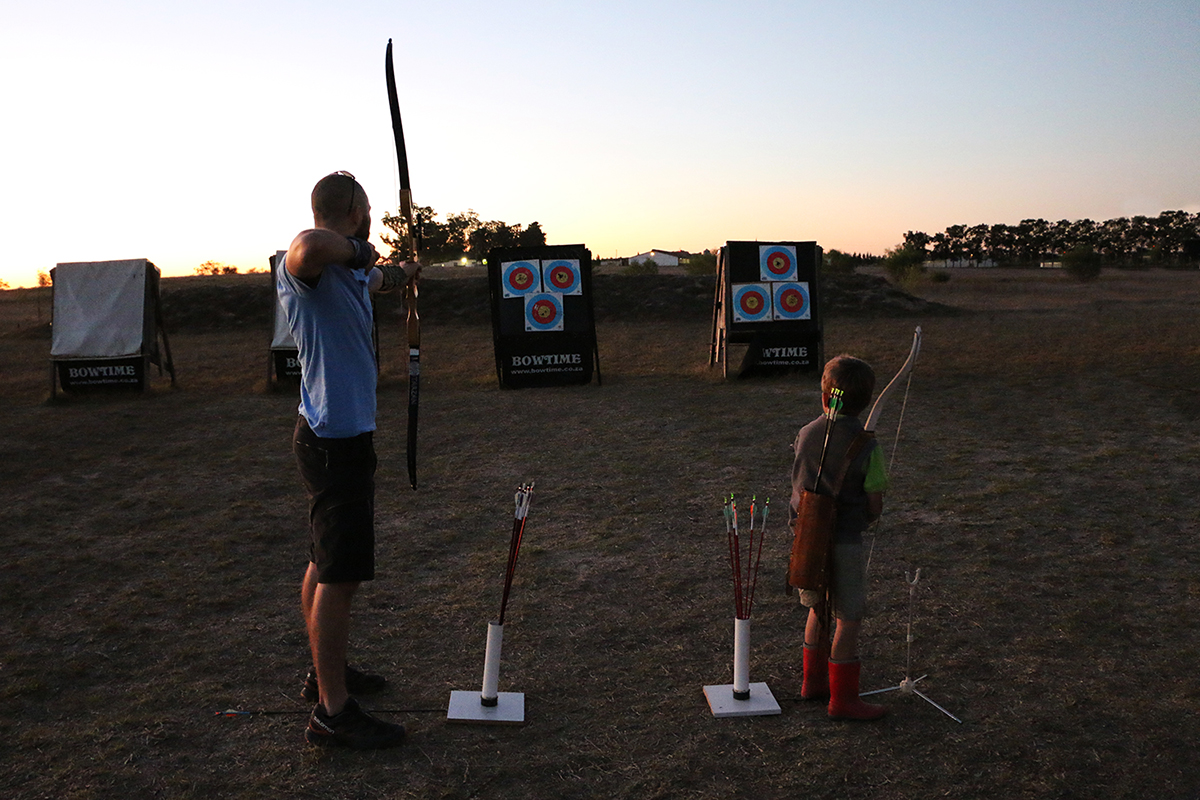 PULL!
BANG!
So close… Maybe he's just tired? Yes, that's probably it. Our stay at the Wild Clover, a beautiful farm located just outside of Stellenbosch, South Africa, has been a whirlwind of activity. While we could've opted to relax in our cottage, we decided, instead, to fill our time with horseback riding, game drives, archery, clay pigeon shooting, and more. We've only been here for a week, but our time has been jam packed.
If you're thinking about spending some time at the Wild Clover, then you've come to the right place. While Ryan works on his aim, let me give you an honest review of everything that you need to know before making your reservation.
Accommodation
The Wild Clover has five self-catering cottages dotted along the edge of the adjacent game farm. From our patio, we enjoyed a spectacular view of the farm's rolling plains and the local watering hole, which was always bustling with wildlife. At one point, a dazzle of Zebra galloped right past our front door! (A "dazzle" of zebras? Yep. I had to look that one up.)
The cottage itself was relatively small, but the natural light, picturesque setting, and sprawling view more than made up for it. It came with all of the comforts that one would expect of a self-catering getaway, and we thoroughly enjoyed the peace and quiet of "home" when we weren't out and about.
Location
The farm is situated in the beautiful Stellenbosch Winelands, just a 15-minute drive from Stellenbosch itself. This allowed us to enjoy the remote-African-lodge experience, without sacrificing the convenience that comes with being in close proximity to a town.
Whether you enjoy the great outdoors, fine dining, art and culture, or something in between, you are bound to find a plethora of exciting activities in the area.
Which leads me to my next focus…
Activities
In my opinion, this is where the Wild Clover really shines. I already mentioned some of our favourite activities, namely: horse riding, game drives, archery, and clay pigeon shooting. This, however, is only the tip of the iceberg.
Horseback game rides, local craft beer and wine tasting, breath-taking hiking trails, guided art tours, and food markets are some of the other activities that made our stay so enjoyable.
The Wild Clover is also extremely child-friendly. While you enjoy a delicious lunch at the on-site restaurant, your children can play with the animals at the petting zoo, swim through the ball pen, climb on the jungle gyms, or bounce on the jumping castle.
Hospitality
While the cottages are self-catered, they were cleaned daily. This meant that I could relax without having to worry about washing dishes or tidying up too much. Every member of the staff was friendly and made sure that we had a great time. Events weren't on a strict schedule so you may want to leave yourself a little wiggle room.
The Verdict
What I love most about the Wild Clover is that you get a far-away experience less than an hour outside of Cape Town. I also enjoyed having the option to cook for myself or eat out at one of the many restaurants in the area. Finally, the wide variety of activities resulted in experiences that we would never have thought to pursue otherwise.
In short, if you ever find yourself in or around Cape Town, South Africa, I highly recommend taking some time out to visit the Wild Clover.