I'm writing this post from my guesthouse in Bali. At this point, my biggest concern is the t-shirt tan that I'm developing while surfing the waves of Kuta Beach. I'm also running low on coconut juice… As I sit here, however, I'm acutely aware of the fact that this moment of bliss is fleeting. In less than 3 weeks, Amy and I will be traveling to India to cross a massive adventure off of our bucket list. One that promises to be anything but luxurious.
According to the organisers, this adventure is "easily the least sensible thing you can do with two weeks". If we make it to the end, it's likely that we'll require the help of a proctologist (Google it) as well as several therapy sessions before we are fit to proceed to our next destination.
So what is this adventure and why are we doing it?
In a Nutshell
We'll be competing against 70 other teams in a 3,500-kilometer race across India. The best part? We'll be traveling in a 7 horsepower autorickshaw. The "Rickshaw Run" will take us 14 days to complete (if we complete it at all) and is likely to overdeliver on its promise of adventure. This will be an opportunity for us to step way out of our comfort zones and get a proper adventure under our belts.
The Rickshaw
Let me put it this way, if you honk your horn while your lights are on, the vehicle breaks down. An autorickshaw is a horribly unreliable 3-wheeler that falls over when you turn corners. It brags 7 horsepower and can reach a top speed of 50km per hour when tumbling down a hill.
It also has little to no suspension. Apparently, a day in one of these bad boys will leave you feeling like you've "been kicked in the arse by an elephant". What really excites me about this is that the elephant will have 14 opportunities to make our Indian adventure truly unforgettable.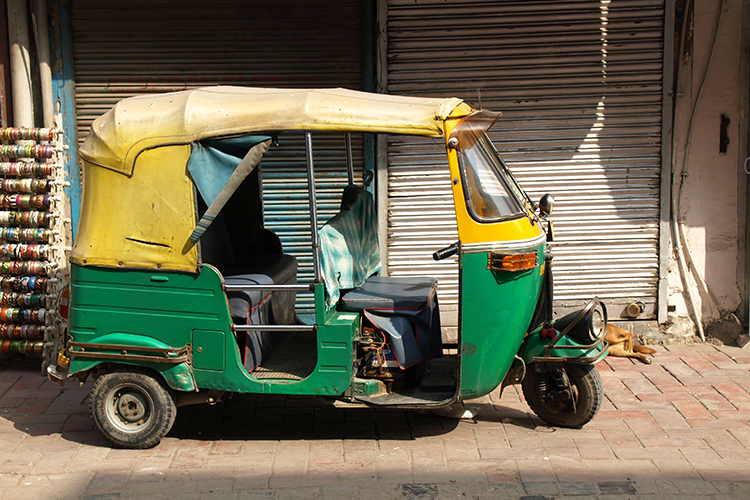 The Route
There is no route. The start line is located in the city of Shillong (North East India). The finish line is located approximately 3,500km away in the city of Cochin (South India). We need to do whatever it takes to reach the finish line alive and in possession of our rickshaw. Fortunately, the condition in which the rickshaw must be returned hasn't been defined too clearly at this point.
As an aside, "3,500km" assumes that you aren't a trio of westerners who have no idea where you're going. Our route promises to be far more thorough than that.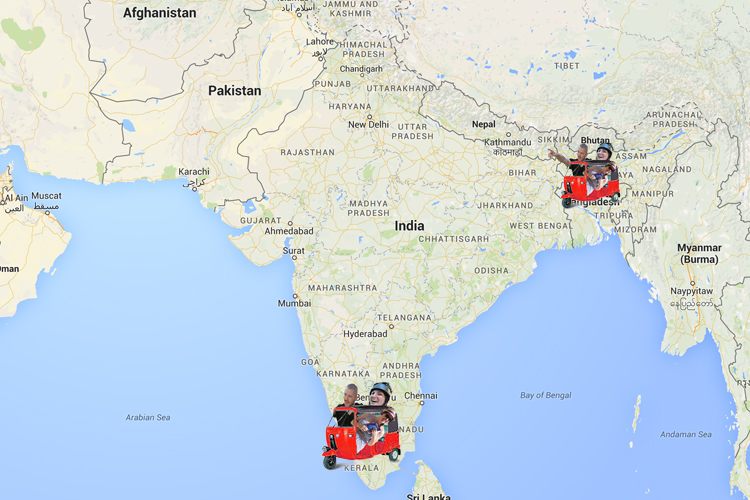 The Team
A couple of months ago, my sister, Bronwyn, mentioned the Rickshaw Run in passing and commented on how fun it would be to compete. We booked our spots in the race 3 days later. She is, therefore, the first member of our team. Amy and I, of course, make up the rest of the crew.
Being the only guy on this team, my name was immediately put forward as the primary driver, the navigator, and the mechanic. We've also been warned about bandits in the mountainous regions, so I will double as a bodyguard in some situations.
Amy and Bronwyn have an equally important role to play. Together, they will act as the secondary navigators or, to use more colloquial terminology, the "backseat drivers". Both of them have years of experience in this field and I am confident in their ability to correct my mistakes.
Saving the World
Now let's talk about the "Why". If you've read through our bucket list, you'll know that we have a goal to save 1 million acres of rainforest. This adventure will be the first small step towards realising that goal.
Cool Earth is a non-profit organisation which is dedicated to preserving the world's rainforests. During this trip, we aim to save 100 acres of the Ashaninka Rainforest by raising money for the cause.
Every $50 that we raise will enable Cool Earth to save a single acre of rainforest. If you would like to save an acre, or part thereof, get more information by watching the below video, and then click on the "Save an acre" link.
Save an acre: CoolEarth.org/get-involved/donate-cool-earth/