The dream is always the same. Six-meter swells, gale-force winds, booming thunder, and total darkness. I call for help, but my voice is lost in the defining roar of the ocean storm. I catch a glimpse of my terrifying surroundings as lightning streaks across the sky. The image is burned into my vision – a moment suspended in time – before darkness descends once more.
I cling for dear life to the only solid object for miles: a battered mango tree log. At this point, it's the only thing keeping me above water. Clinton is long gone, and I'm completely alone, fighting for my life miles away from the Tanzanian coastline. No one is looking for me – the storm is too fierce – and I can feel the end drawing ever nearer. My grip slips as a piercing voice cuts through the chaos: "You did this to yourself!"
And then I'm awake.
My eyes are wide open, but I can't see a thing. My hand fumbles blindly across my bedside table, searching for the phone that I set down the night before. 2:03 a.m. I'm covered in sweat, and I can feel my heart pounding violently against the inside of my chest. I lie back down and stare unseeingly towards the ceiling.
"Everything is going to be fine," I tell myself.
It's just a sailing trip… Sure, it's a nine-day race off the volatile coast of Tanzania… Sure, we'll be sailing a capsize-prone mango tree with a glorified hanky for a sail… Sure, there have been a couple of hostage situations in the past involving African pirates… Oh, and of course, I've never sailed before. But heck, it's for a good cause. Everything should be fine, right?
The Ngalawa Cup
In little over a week, my friend Clinton and I will count down the New Year from a deserted sandbank off the coast of Tanzania. While the rest of the world celebrates the start of a new year, we will celebrate the start of what will likely go down as one of the most extreme adventures we've ever undertaken: the Ngalawa Cup.
In short, the Ngalawa Cup is a 300 km unassisted sailing race through the islands of the Zanzibar Archipelago. According to the organizers, "this is, indeed, an adventure for those with the very biggest of balls."
We will begin on the northern tip of Zanzibar and, over the nine-day duration of the race, make our way south, eventually ending in Kilwa. Nights will be spent, with any luck, in hammocks on whatever sandbanks we manage to crawl on to before dark. Also, because of the remote nature of the racecourse, we will have to rely on our own ingenuity to find food, water, and other provisions.
What makes this voyage unique, however, isn't the remoteness of the racecourse, the sudden shifts in weather, or even the scarcity of supplies. What truly sets this adventure apart is the vessel that will carry us through the wild waters of the Indian Ocean.
Our Noble Steed
In the quest for adventure, autopilot and air conditioning are about as appealing as sitting in traffic. For this race, therefore, we'll be stepping back in time to find a boat so unstable that it will put hairs on the chest of even the most seasoned sailor.
Hollow out a mango tree, add a couple of outriggers, and erect a bamboo mast. Then, hoist your bed sheet in place of the sail and tie it all together with some string. What have you got? The mighty Ngalawa.
For hundreds of years, locals have used these majestic vessels for fishing and short trips. This, of course, makes them ideal for a long-distance adventure race through turbulent waters. What could possibly go wrong?
The Ngalawa is a three-man boat. Unfortunately, I could only find one other man brave enough to join me on this epic voyage.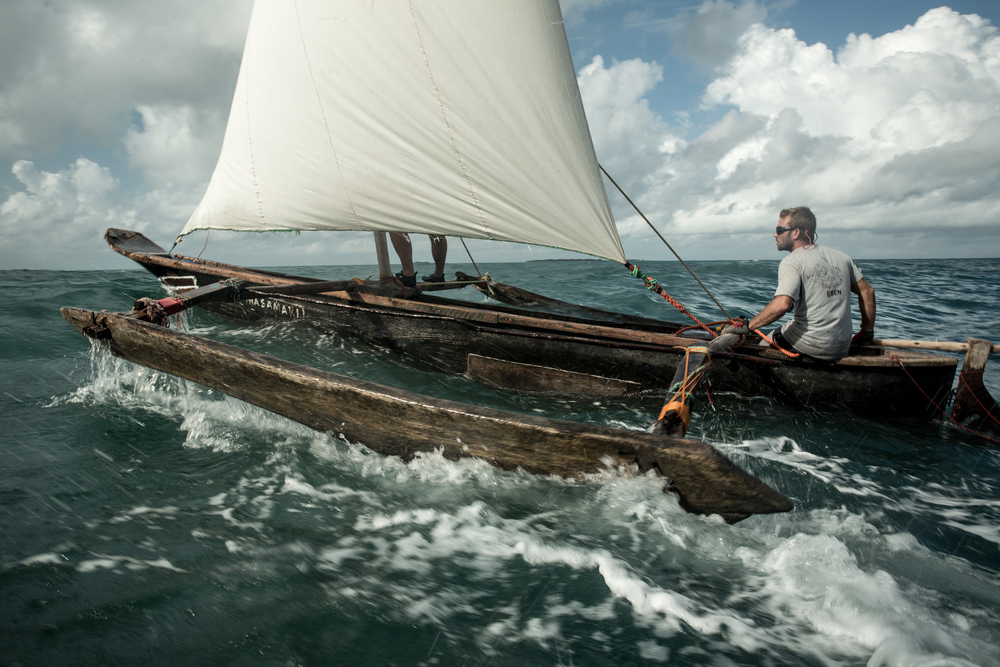 Breaking Wind
I came across the Ngalawa Cup in mid-2015 and immediately added it to my bucket list. Shortly thereafter, I launched a global search for the perfect crew. After nearly 18 months of hunting, I have finally managed to find the ideal teammate.
Together, Clinton and I form team "Breaking Wind." Our unique blend of inexperience and lack of skill differentiate us from our competitors and make us a force to be reckoned with within the realm of adventure sailing.
We are, without a doubt, the team to watch this year.
Clinton Bolton
Clinton is one of the most adventurous people I know. He pays the bills as a professional Kiteboarder and, in his free time, you can find him free diving with something terrifying, jumping from something high, or simply cavorting in some exotic land. He is one of the few people that I know who has more adventures than I do.
Sailing skill: 2/10
Enthusiasm: 8/10
Ryan Sletcher
I sailed once. I was seven years old, and I nearly shat myself when the boat started to heel. Needless to say, I am likely to add plenty spice to an already extreme quest. In general, when undertaking major exploits, I've found that I am nine parts enthusiasm and one part skill. This adventure will be no different.
Sailing skill: 1/10
Enthusiasm: 9/10
The Cause
I started TheProfessionalVagabond.com with the goal of empowering people to set themselves free. One of the most widely known items on my bucket list is my goal to help a million other people become full-time bucket-listers. There is a group of people, however, who cannot set themselves free and they desperately need our help.
Believe it or not, more than 35 million people are currently living in modern day slavery. While many think that slavery was abolished decades ago, the reality is that it remains one of the most serious problems that we, as a global community, face.
My life's mission is to make the world a freer place. Through this race, I aim to take a step in that direction by raising money for International Justice Mission; an amazing organization that is dedicated to fighting human trafficking and modern-day slavery on a global scale.
Watch the video below to see the impact that your contribution will make and click here to make a difference by donating to the cause.